New York City 2008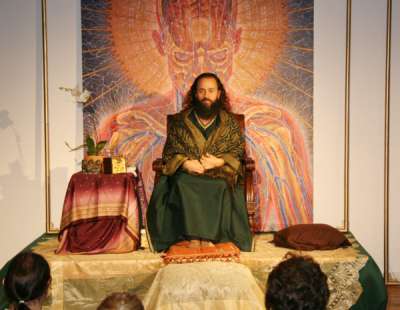 At the end of February, Louix and a team from Prema Drala Ashram, including the film crew for the documentary A Great Awakening, traveled to New York City for a week-long series of events. After discovering and reading Louix's discourses on the Internet, Dr. Blanca Greenberg, Ph.D. (founder of Spiritual Path Holistic Center on Staten Island) and Eileen Marino were inspired to invite Louix to their hometown to share his love and wisdom with others.
On February 28th, Louix gave an evening of darshan at CoSM, a breathtaking gallery of contemporary sacred art created by world-renowned artist Alex Grey, located in Chelsea, Manhattan (www.CoSM.org). Setting the energies for the evening ahead, Louix performed a ceremony as he walked through the mystical Chapel of Sacred Mirrors gallery, which houses an installation of twenty-one of the most intricately painted, life-size representations of the male and female human form, portraying both its physical and energetic systems. Afterwards, Louix, Ariel Ganesha, and Lisa Leslie (who helped produce the events) met with Alex Grey and his wife, Allyson, in their private studios.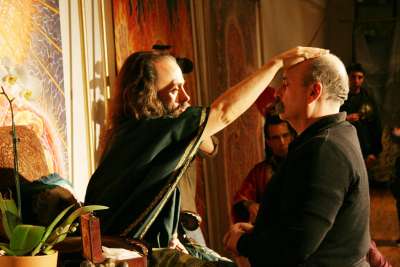 The evening darshan began with a captivating Prayerformance by Thoth (www.skthoth.com), who was recently the subject of an Academy Award-winning documentary. The room was buzzing with otherworldly energy created by Thoth's introduction, as Louix entered. For the next three hours, Louix, in a state of samadhi (Divine bliss), received and gave personal messages and blessings to over 80 people who came from all over New York, New Jersey, and Staten Island.
The next day, the group travelled to Staten Island and settled into historic Mt. Manresa, a Jesuit retreat centre established in the 1920's, which served as the home base for the next five days. On the evening of February 29th, Louix was interviewed, along with Dr. Greenberg, on the Staten Island cable television show Spiritual Exploration. Christine Schiavone, the show's host, delivered a series of questions on the topic "These Changing Times," and Louix's profound and intricate responses had the show's audience, including the host and camera crew, captivated and in awe. The hour-long interview was broadcast to over 100,000 people on three consecutive Fridays, beginning March 21st.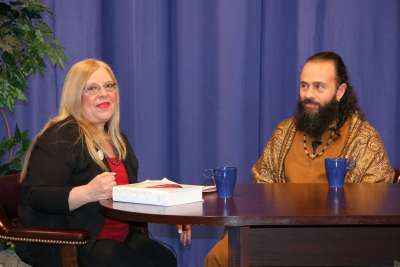 On March 1st, a One-Day Retreat was held at the Mt. Manresa Retreat Center. Students from the Spiritual Path Holistic Center, family and friends, and several attendees from the evening darshan event, including Christine Schiavone, came to experience more of Louix's grace. The day began with kirtan performed by local musicians Damaru and Lisa Kroft, and was followed by a powerful grounding meditation guided by Louix. Throughout the question and answer period, Louix led the audience through a series of profound discourses on topics ranging from "veganism and holistic living" to "the meaning of desire." All those who attended left totally transformed and inspired to share their experiences with others. (Study groups in Louix's name are currently being established in New York. For more information, contact sylvia@Louix.org.)
The retreat was followed by a day of private audiences held at Dr. Blanca Greenberg's Spiritual Path Holistic Center on Staten Island. Families, couples, and individuals from diverse walks of life came to seek Louix's blessing and guidance on topics such as health, relationships, parenting, and manifesting abundance. The following is an account from one of Louix's assistants:
"… This was the first time I experienced an entire series of events with Louix where almost all of the people in attendance were meeting Him for the first time. And they came from so many different backgrounds—from varying faiths and religions, young, old, single, married—but all had one thing in common:  a desire to hear Truth and to have an experience of God. One man who attended the evening darshan was astounded and overwhelmed by his experience with Louix that first night. He basically dropped everything he had planned for the next several days to attend the day retreat and the private audiences. His tears rarely stopped during those days. He just kept shaking his head in awe and was barely able to speak. He even waited for eight hours to have five minutes in the Master's presence on the day of the private audiences. He spent the entire day listening to Louix's recorded meditations and discourses and speaking with Zimmaron and Bill, two of Louix's closest disciples, about their experiences during their walk with Him. At the end of the day, he passionately expressed his desire to start up a study group to share Louix's teachings with others. Louix really opened his heart, and after those few short days, his life was not the same."
During the trip, Louix took his team to some of New York's famous landmarks including Ground Zero (the site of the 9/11 terrorist attack on the World Trade Center in 2001), the Statue of Liberty, the Natural History Museum, and Greenwich Village. Louix performed alchemical prayer ceremonies at both the Statue of Liberty and Ground Zero.
Our deepest gratitude extends to all those who welcomed Louix to New York for this exquisite series of events, which were only made possible because of your outpouring of love, devotion, and selfless service.