Study Groups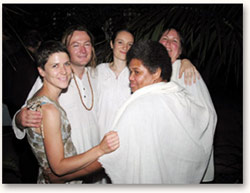 Our Study Groups offer a regular forum for people to explore Louix's teachings and to learn about the many practical tools he offers to accelerate one's spiritual development and to experience greater joy and inner peace. They are facilitated by his disciples, devotees, and others who have been deeply impacted by his presence in their lives. These gatherings explore many facets of conscious living, including:
•    The Journey to God-Realization
•    Meditation
•    The Power of Gratitude
•    Sacred Living
•    Creating Abundance in your Life
•    Divine Parenting
•    Holistic Living
•    Healing Disease
•    Transmuting Fear and Anger
Study Groups are currently established in the United States and Australia. One of the goals of the Foundation will be to create guides and other materials to facilitate the study of Louix's teachings by individuals and groups. The Foundation also plans to coordinate Study Groups in schools, universities, prisons, church groups, and other institutions that serve the greater community. To facilitate a Study Group, or to find out information about groups in your local area, please contact:  samantha@Louix.org.
Below is the list of Study Groups that currently hold regular meetings. Please contact the organizer to find out about their next meeting.
United States
Laguna Hills, Southern California
Contact Samantha Farber at samantha@Louix.org
Chicago, IL
Contact Richard Niebaum at (847) 477-7171 or rich@Louix.org
Australia
Melbourne (Ashburton), VIC
Contact Kharananda Mayi at +61 425-797-383 or kharananda@Louix.org