Las Vegas Events – April, May 2010
From April 8 – 12th, Markus Kasunich and Zimmaron Zsido traveled to Las Vegas to hold Satsangs on behalf of the Louix Dor Dempriey Foundation and to promote Louix's upcoming visit. On April 9th, they held a Satsang in which Markus led a guided meditation. Afterwards, Markus and Zimmaron shared intimate stories about their profound walk with their Guru, including being on worldwide pilgrimages; showed unreleased film footage of Louix; and held an open Q&A session. They also held a Satsang on April 12th which included a ceremony with Pancho, The New Generation Crystal Skull, before returning to Prema Drala. Both these events were promoted by the Awareness & Consciousness Group of Southern Nevada.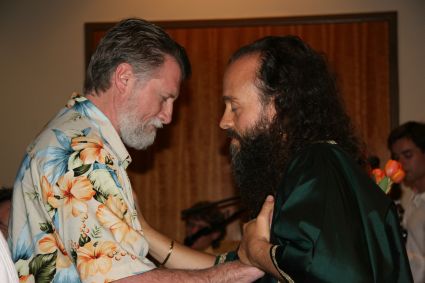 On May 19th, Louix gave darshan at the Wingate Hotel in Henderson, Nevada (just outside of Las Vegas). Guests continued to arrive throughout the evening, as 75 people received individual anointings of all different kinds from Louix. Pranam serenaded the room with devotional music as the bliss intensified and people experienced heightened states of love and joy.
On May 22nd, Louix held a One-Day Retreat at the same venue. He began the retreat by leading a guided meditation wherein everyone summoned their closest guardian angel, and reconnected with that Divine Being. Following this meditation, Louix partnered everyone and asked that they stare into each other's eyes, and see and feel their angelic presence. After a mid-day break, he answered many questions from the participants, giving them specific guidance on how to deal with many life circumstances. Having absorbed his love and precious wisdom, everyone left with a more profound experience of God and Self.