Free Live Internet Event on 2012 and Beyond – December 12th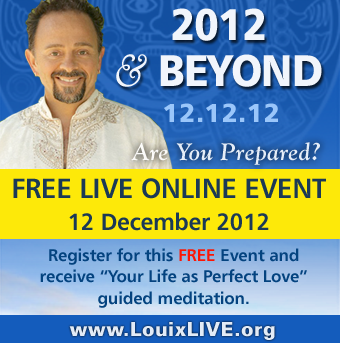 Event: Free Live Internet Event entitled 2012 and Beyond - Register at LouixLIVE.org
Date & Time: Wednesday, December 12th, 6:00 p.m.
Location: Register at LouixLIVE.org for this online event
Cost: Free
On 12.12.12. join Louix  for a FREE live internet event entitled 2012 and Beyond where he will discuss the significance of this time period, what December 21st 2012 actually symbolizes, and how you can make the most of this huge opportunity for growth and expansion.
Louix will begin this once in a lifetime free event with a short meditation followed by an enlightening discourse and Q&A. If you miss the live event, a limited-time replay will be made available. Please visit LouixLIVE.org to register and for more information.
Important Disclaimer: Event times, dates, and locations are subject to change. Please check this website often, or subscribe to our e-mail list, to be notified of these changes in a timely manner.
All proceeds support the Louix Dor Dempriey Foundation, a 501(c)(3) non-profit educational organization.