Ecstatic Singing and The Divine Romance – February Events 2012 – with slideshow
On February 11th, Louix sang with Pranam at our Ecstatic Singing event held at Prema Drala Ashram. This was our first public event of 2012, and it was wonderful to see many people we had not seen in almost two months. Pranam played a lively set which included songs such as "By Thy Grace," "Shivaya Pranananda," "Benedictus," and a new song "Ganapataye."  A few hours before the event, the world had just found out that Whitney Houston had passed away. Louix ended the evening with a moment of silence and prayers in her honor and expressed gratitude for this angel who blessed us with her beautiful voice and music. He then dedicated the song "Hosannah" to her as we sang together. Following are some photos we would like to share with you:
[slideshow id=8]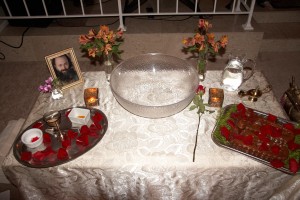 On Monday the 13th of February, we also celebrated The Divine Romance, a holy day consecrated by Louix to honor and celebrate the courtship with The Beloved of your soul. We gathered at the ashram, which was beautifully decorated with bouquets of flowers in various shades of violet. Brahmananda spoke a heartfelt opening prayer and led us into a guided meditation.  We were then invited to take an inner journey by invoking and merging with The Beloved of our soul. The evening continued with a few devotional songs led by Pranam. Chocolate dipped strawberries were offered as Prasad to conclude and bless this uplifting event hosted by Brahmananda and Sylvia.