Australia Visit – August 2012 – with slideshows
Louix and Samantha Farber touched down in Melbourne, Australia, on the morning of August the 5th and were greeted at the airport by disciples and devotees from here and interstate.
Later that day, there was a welcome dinner and devotional singing scheduled to take place. Upon arrival, the first port of call was an emotional reunion with Lisa Leslie in the lounge room. Louix also met Lisa's daughter, Aliyah, for the first time, and the two were instantly enamored with one another. As Louix held her, Aliyah smiled and stared into his eyes, and stroked his beard in fascination.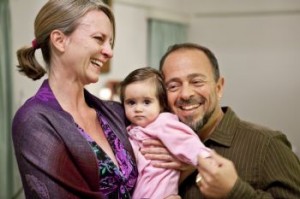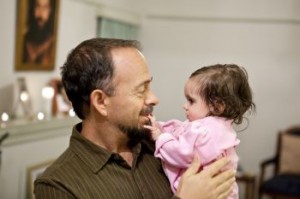 There was a full house at the Ecstatic Singing event held on the 8th of August. Louix bounded excitedly into the room during the first chant, "Ganapataye," and continued to dance for a few minutes before taking his place in his chair at the front of the room. He then proceeded to lavish us all with his love. He gazed into his beloveds' eyes, resulting in many chelas having profound shakti experiences or crying. Firstly, Arterium Angledal, and then Francesca Frangipani, came to their Guru with open arms and open hearts, with both remaining by his side for the longest time.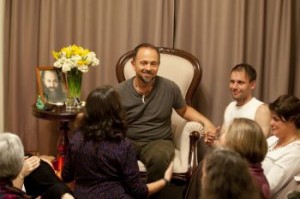 After months of preparation and anticipation, the Public Darshan was held on the 11th of August, at BMW Edge, Federation Square in Melbourne. We welcomed back kirtan group Sushumna, who had touched our hearts with their phenomenal music at Louix's Public Darshan two years ago, and they wowed us again this time.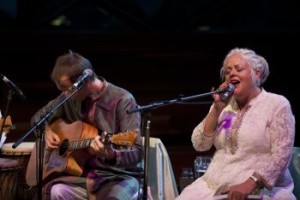 Many people received a personal blessing, which for some included profound guidance about their lives, in addition to infusions of unconditional love and light. Some people experienced exalted states of bliss and lay down basking in the love, completely intoxicated by the energies in the room.
We were blessed to have a second Public Darshan take place on the 17th of August, this one held at Sundara Aravinda Ashram. Once again, many had profound experiences, their hearts opening up to receiving the enormity of love that God/Guru has to bestow on them. Particularly heart-warming to witness, was Norma Close again having an ecstatic experience of God, her beautiful laughter pouring forth from her for several minutes following her receiving her blessing.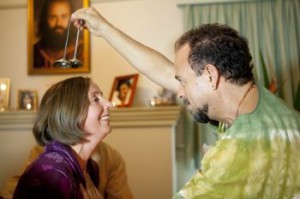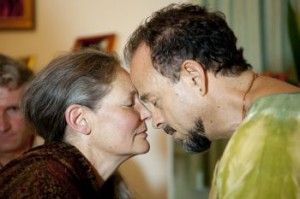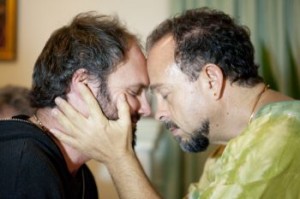 Another evening of Ecstatic Singing was held on the 21st of August, at Sundara Aravinda Ashram. This event was open to the public and saw the mandir filled to capacity with seekers wishing to experience the Divine, some of whom had never before been in the presence of Louix. We commenced the singing, with Louix entering the room shortly thereafter. Upon the completion of the song "Ganapataye," he greeted his beloveds and thanked the band, announcing that he had given his blessing on the group's name, Namavali, which in Sanskrit means "songs reciting the name and Divine attributes of God."
A large group came together on the evening of the 22nd of August to partake in a farewell dinner for Louix and Samantha Farber. It was a bittersweet occasion, as it marked the end of two-and-a-half weeks of wondrous events and countless opportunities to bask in the Divine presence of our Guru. Louix helped our spirits stay uplifted; however, when he promised that he would now be coming to Melbourne at least once a year, with the next visit likely to be in March/April of next year.