Australian Events (Dec 2007 – Jan 2008)
Mid-December 2007 through early January 2008, Louix and his daughter Ariel Ganesha made their sojourn to Australia, staying at his ashram in Melbourne (Sundara Aravinda) and spending precious time with beloveds who came from all around the world to see them. For almost six weeks, a dedicated film crew along with some of his closest disciples from Prema Drala Ashram devoted their time and energy to capturing footage for the upcoming documentary, A Great Awakening. Highlights of their three-week visit included:
       

•

  
A renewal of wedding vows ceremony for two disciples in Sydney;
       

•

  
The consecration of Sathya Sananda, his new ashram in Sydney;
       

•

  
A Public Darshan on the evening of his birthday;
       

•

  
An evening of pranayama (a sacred breathing exercise for moving into higher states of consciousness);
       

•

  
A Christmas Eve celebration amongst his Melbourne family;
       

•

  
Christmas Day at the Royal Botanical Gardens;
       

•

  
The New Year's Residential Retreat held in the Dandenong Ranges.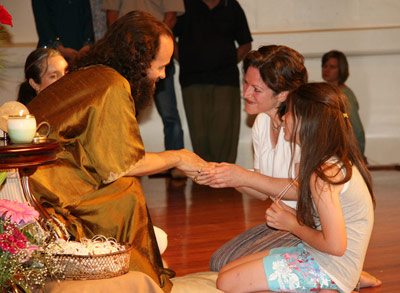 Public Darshan
On the evening of his birthday (December 17th), Louix gave a Public Darshan at Melba Hall, at the University of Melbourne. He received approximately 70 people, anointing each person's third eye with an intoxicating blend of oils and, to some, delivering personal messages and/or Revelations. He also gifted each person a necklace as prasad (a food or an item that has been blessed by the Master). The love and devotion that filled the atmosphere was amplified by the beautiful sounds of Australian sacred music group Sacred Earth.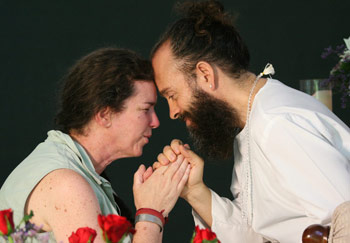 Residential Retreat
On the warm afternoon of December 29th, disciples, devotees, and seekers arrived at The Country Place at Kalorama, located in the beautiful Dandenong Ranges just outside of Melbourne, to participate in a four-day residential retreat. Overlit by Louix's love and grace, the retreat enabled everyone to experience deeper communion with God and each other. From guided meditations to yoga, and devotional singing to holistic, vegan meals, each aspect of the retreat enabled us to assimilate the greatest amount of Light into our bodies.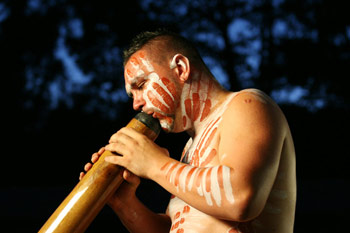 One evening included an Australian aboriginal didgeridoo ceremony by Jeremy Donovan. This ancient practice invoked the healing power of sound to connect us to Mother Earth. On December 31st, we gathered in the meeting space for our morning session with Louix. With a high amount of shakti coursing through his body while in a profound state of samadhi, he received each person and anointed them, sending many into altered states of consciousness and speaking wondrous Revelations to others. The following is one staff member's account of this unforgettable, five-hour experience:
"… To put it mildly, people started bursting into ecstatic states. Sometimes He would say something to them, or He would just intensely stare into the person's eyes with His glazed-over 'eyes of God'; and each time, He would put sacred ash on the third eye of the individual. It was fascinating. Many a time I would help walk the person down the stairs as they were shaking, and then, after being escorted only a few feet from the stage, they would collapse on the floor into a blissful outburst of shaking, laughing, or crying. The seating arrangement only offered limited ways to maneuver through the room and all avenues were getting blocked by people who were lying on the floor in bliss. Blessing after blessing, anointing after anointing, I had to be prepared for the unexpected…
Probably the most profound (intense) experience was toward the end. We had one lady attending the retreat who had a history of drug-related problems, as well as abuse. When she came to the retreat she spent a lot of time in her room and looking after her son; yet, she was also afraid and extremely shy.
It was heart-wrenching to watch her come up to Louix. As she drew nearer to Him, she started crying, and as her eyes locked onto His, she started saying, 'No… no… no…' in morbid desperation as she realized what was about to happen. Within moments, Louix embraced her and began crying heavily with her. I was directly behind her facing Louix and I could hear a symphony of wails behind me as everyone felt her pain and witnessed Louix sucking all the drugs and the pain from her, like a vacuum cleaner. I cried uncontrollably watching the expression of agony on Louix's face as He held her tightly and transformed her life forever.
That day her addiction was healed. This is one of many miracles… "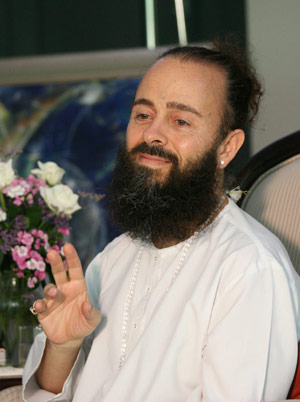 During the final minutes of 2007, Louix proclaimed 2008 to be The Year of Rebirth. This will be a year, he explained, during which each person will have the opportunity to begin a brand-new life—if we are willing to take the necessary leaps of faith. He stated the importance of remembering that everything is forgivable and redeemable in God's eyes, and he used the analogy of the proverbial "phoenix rising from the ashes" to represent this rebirth. He also revealed the sacred gemstone that holds the energies for this year to be the opal—also the stone of the Aquarian Age.
"… that Divine Grace, heralding and harnessing the energy of rebirth, means there's an opportunity here—and a window, an opening, an invitation, and a blessing upon endeavors the same—for each one of us to… begin anew, to make a brand-new life … to claim a vision for your life; and there is an energy this year that will help anchor that, bless that, and empower that like you have never, ever had in your life."
- Louix Dor Dempriey
Many of those who attended these events recounted them as being some of the most (if not the most) powerful events of their lives. It was also very touching to witness and be part of the many meetings and reunions that took place within Louix's global community.
We are most grateful for the precious time Louix spent with us, and can only look forward to all that The Year of Rebirth has in store.