September 2012 Newsletter

13 September 2012
Namaste,
Louix has returned from traveling abroad the last couple of months, first to Egypt on a sacred pilgrimage to Mt. Sinai, and then to Australia to visit His Melbourne ashram, Sundara Aravinda. We are now having public events again in Southern California, the next one being a Darshan that will be held on September 15th at Prema Drala Ashram. There is still the opportunity to register for the One-Day Retreat with Louix, which will be held on September 29th at the Seaside Center for Spiritual Living, in Encinitas! To register and for more information, please click on:  www.LouixOC.org
A special thank you
While Louix was traveling, there were many opportunities to participate in the various programs held here at Prema Drala Ashram. In July, we had a very successful day of seva, during which everyone helped put together our mail-out. In August we had a day of Garden Seva. And we have been ongoingly distributing postcards throughout the past two months. We are so grateful to those of you who took part in these activities. Your support is both a welcomed and very necessary and integral part of this ministry. We are eternally grateful!
Special Announcement
Global Live Internet Event and New Membership Site
We are very excited to announce that we are producing a special live Internet-based event with Louix! The date of this event is yet to be confirmed and will consist of a discourse and possible Q&A on a very timely topic. This free event will be available to all, with a limited-time replay for those who cannot attend. Our aim is to reach as many people as possible, to gift them with a full experience of Louix's love, wisdom, and Darshan!
In preparation, we have been busily rebuilding the existing Louix.org website. We will also be upgrading the current live videoconferences into a membership site called Louix.tv. This new site will provide subscribers with 24/7 access to exclusive monthly content, along with our regular twice-monthly videoconferences. There will also be a community forum where people will be able to interact with other members, along with a variety of other exciting features.
To help us accomplish this goal, we are asking for your help. The budget for this event is $20,000, which consists of online marketing costs, website development, and necessary video equipment upgrades. This is on top of the hundreds of hours of volunteer time necessary to make this possible.
If you feel in your heart to contribute, and would like to help Louix reach the world via this special event, we are asking for donations. All donations are tax deductable. For details on how to make a donation, please click here. When making a donation, please specify that it is for the "Live Internet Event" so we can make sure your funds are allocated for this project. We thank you for your ongoing love and support.
2012 New Year's Eve Retreat
now open for registration
We are excited to announce that the New Year's Eve Retreat will once again be held at Enchantment Resort in Sedona, Arizona from December 29th, 2012 to January 3rd, 2013. Just a reminder:  this is the busiest time of year for Enchantment Resort, so space is limited. We are encouraging those who are going to join us to please register much earlier this year. For more information, please watch the video below, or click here to register. We look forward to seeing you all there.
June/July 2012 Event Highlights
On June 9th, Louix gave darshan at the Seaside Center for Spiritual Living in Encinitas, California. It was a soft and sweet, love-filled evening as our Guruji blessed each person who came before Him. Pranam played an engaging set of music to accompany the evening.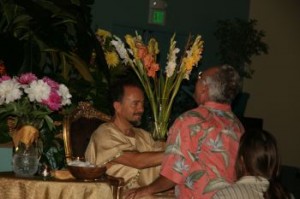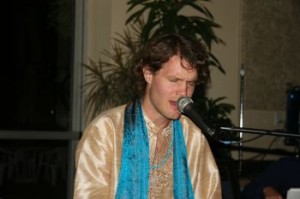 On June 15th, twenty people joined Louix for the 4th Annual Father's Day Camping Trip at Blue Jay Flats campground for three nights. We arrived Friday afternoon and watched as Guruji consecrated the site, after which we all participated in a trash clean-up of the area. We then started setting up tents, and very quickly, we made the camp site our home away from home. Over the weekend, we played many games of "I Doubt It," as well as a new card game called "Speed." Some also played a more active game such as soccer.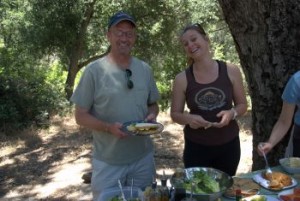 On Saturday night, we played a long game of charades by the campfire; some of the biggest laughs were from the guesses shouted out by the group. Guruji counseled many people through His stories and loving presence over the course of three days. The last evening, as we were playing another game of "I Doubt It," Guruji began gazing at a few people at the table, which resulted in fits of laughter and bliss! After the card games, we gathered around the fire to listen to Guruji tell stories. After a while, He began a powerful chant, "Meera Baba Dali Yoga Sananda" (which He composed back in 1998). The Master chanted this for quite some time and put many of us into altered states. Some people commented that it felt like we entered into another realm, which was very noticeable as we all attempted to re-enter society after such a private and special weekend up in the mountains with our Guru.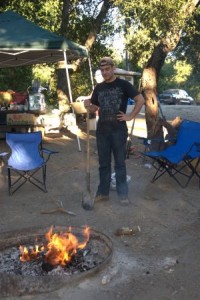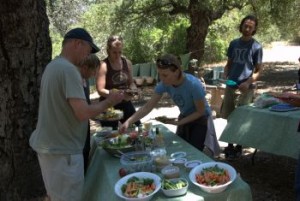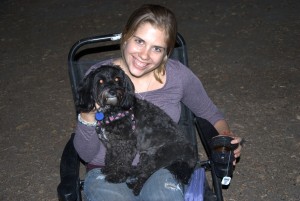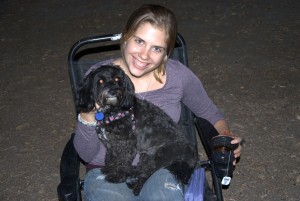 On July 3rd, we gathered to celebrate Guru Purnima at Prema Drala Ashram. Everyone was instructed to bring a rose, so the petals could be removed and placed in a basket to be presented at the feet of the Master. As Louix arrived, He was surprised and visibly moved at seeing all the guests lined up before Him. Chris Watson walked several feet in front of Him with a basket of rose petals for each person to gather and place at the feet of their Guru.  As it was explained by Brahmananda, this represented each person laying all of their concerns and troubles at the feet of the Guru for transmutation.  Louix walked on rose petals, beaming with love, and greeting and blessing all.  The 108 Names of Bhagavan Sri Pranananda played in the background as He proceeded along the path of rose petals laid before Him, all the way up to His chair.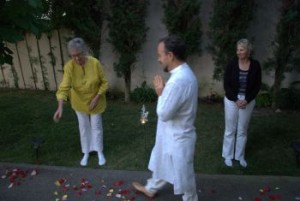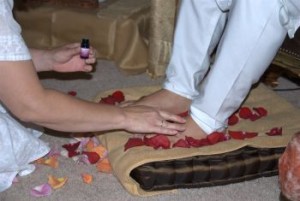 When Louix took His seat, an Aarti ceremony was performed by Chris Watson and Zimmaron Zsido.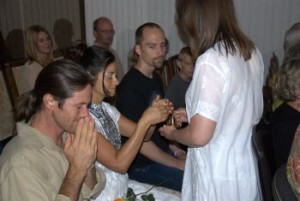 Pranam began to play a string of beautiful devotional songs in honor of the Guru, while Louix began a special anointing and darshan. After Louix departed, the rose petals were placed in small, golden mesh bags for everyone to take home and place on their altars or have as a keepsake.  The energy and essence of the Guru was imbued in the rose petals and would surely bring many blessings to come.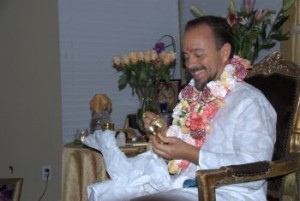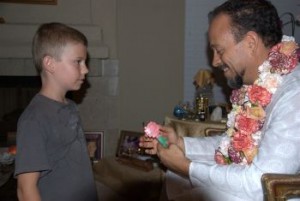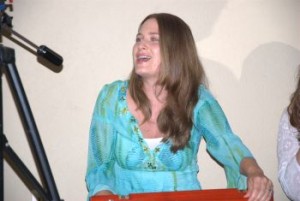 On July 9th, Louix departed for His pilgrimage to Mount Sinai, Egypt. Samantha joined Him on this 17-day journey, which also included visits to Morocco and England. The trip began with a 20-hour layover in London, enabling a quick site-seeing tour, as this was the first time Guruji had visited London. He and Samantha took the London Tube to the South Bank of the Thames River, crossing the Westminster Bridge for a stroll and a ride on the London Eye, the world's largest cantilevered observation wheel. Depending on the day, you can see as far as 25 miles of city from all angles in the observation capsule. The remainder of the evening was spent strolling through Piccadilly Circus and through London's Chinatown.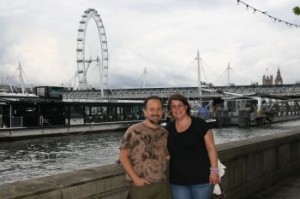 The next stop was five days in Marrakech, Morocco. This is an extremely lively city, with a center square called Jemma El Fna that is filled with activity, including street performers, snake charmers, more than 100 food stands, souks (small shops selling everything from clothes and art, to dried fruits and lights), fresh juice stands, and thousands of beautiful local people. Louix and Samantha spent many evenings taking in the electrifying sights and sounds of the square. These included a performing monkey, up close and personal sightings of deadly viper and cobra snakes, as well as many fresh squeezed juices and other samplings of the local cuisine.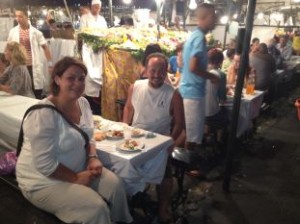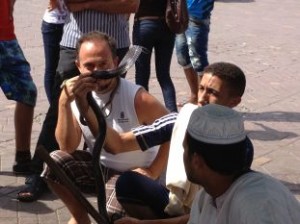 After Marrakech, Guruji and Samantha visited El Gouna, Egypt, a small resort town on the Red Sea. They enjoyed swimming with wild dolphin in the Red Sea and snorkeling around the gorgeous coral reef. On another occasion, they walked around the elegant village and marina, talking with the local people whom were overjoyed to meet Americans. They told Guruji that it has been very rare to see Americans since the overthrow of the Egyptian government in January of 2011 (the U.S. government has strongly discouraged travel to Egypt). The economy has been severely affected by the drastic drop in tourism.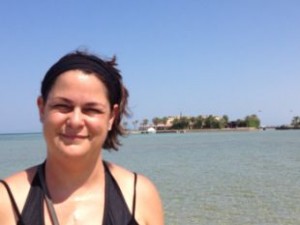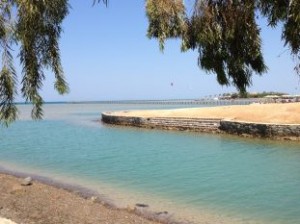 Louix and Samantha hired a car and private driver to take them to Mt. Sinai. Much to their surprise, the main road was closed, as there had been two American hostages taken [they were released after three days] the week prior. This required them to take a nine-hour detour, as well as a police escort for part of the journey. They climbed Mount Sinai on the first day of Ramadan (the Muslim holy month). The journey began with a camel ride up this sacred mountain until they reached the beginning of what is called "the 700 steps"—the last and most difficult part of the climb which can only be done on foot, up seven hundred steps. There, they enjoyed a spectacular panoramic view of miles of mountains. They were blessed with having the entire mountain all to themselves, as there were no other climbers on the mountain that day—or camels! Even most of the bedouins, who live on the mountain and run the snack shops along the climb, were all gone for this first day of Ramadan. After reaching the summit and breathing in the most Divine scene, they meditated for a few hours. Many pictures were taken to capture this extraordinary moment.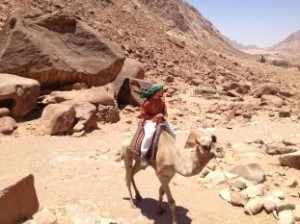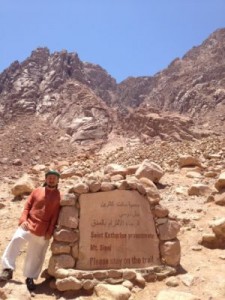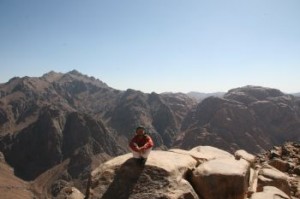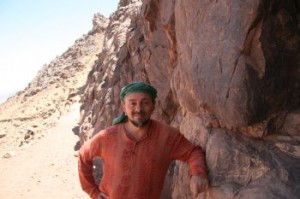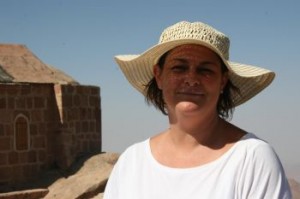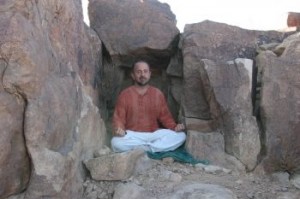 After Mt. Sinai, they returned to Cairo for the last few days of the journey. The highlight of the days spent in Cairo was enjoying a home-cooked meal at Mohamed Nazmy's (the guide from Louix's 1999 pilgrimage to Egypt) house. His wife made a spectacular meal. Dishes included moussaka, stuffed zucchini and peppers, and cinnamon rice with black eyed peas, just to name a few. This was a traditional Egyptian meal, and it was even more special because it was made and consumed during Ramadan. Louix and Samantha then returned home on July 25th, safe and sound.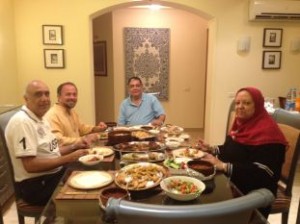 Upcoming Events
* All events are by donation, except where noted.
September 15th (Saturday), 7:30 p.m.
Darshan - Laguna Hills, CA
Location:  Prema Drala Ashram, 25742 La Serra, Laguna Hills, CA
Come receive a personal blessing from Louix.
September 26th (Wednesday), 7:30 p.m.
Study Group- Laguna Hills, CA
Location:  Prema Drala Ashram, 25742 La Serra, Laguna Hills, CA
A regular forum to explore Louix's teachings and practical tools to accelerate one's spiritual development and live in greater joy and inner peace.

September 29th (Saturday), 10:00 a.m. – 6:00 p.m.
One-Day Retreat – Encinitas, CA
Location: Seaside Center for Spiritual Living, 1613 Lake Drive, Encinitas
Immerse yourself in this spiritual Master's wisdom, grace, love, and humor as you receive His personal guidance to move you into deeper levels of self-mastery.
Cost to attend:  $150.00 (includes a vegan lunch), with lower pricing for children (inquire)
 To register and for more information, please click on:  www.LouixOC.org
October 13th (Saturday), 7:30 p.m.
Darshan - La Jolla, CA
Location:  Akasha Yoga, 3211 Holiday Court, #203, La Jolla, CA
To receive a personal blessing from Louix can have profound transformational effects, which often evokes exalted states of bliss, kundalini rising, and even, at times, healing of physical ailments.

October 27th (Saturday), 7:30 p.m.
Darshan - Laguna Hills, CA
Location:  Prema Drala Ashram, 25742 La Serra, Laguna Hills, CA
At this event, Louix joins the band Pranam to create an uplifting and exhilarating experience of ecstatic singing. Come and bask in the bliss!
October 31st (Wednesday), 7:30 p.m.
Study Group - Laguna Hills, CA
Location:  Prema Drala Ashram, 25742 La Serra, Laguna Hills, CA
These gatherings are intended as interactive forums, fostering personal growth and transformation.
December 29th (Saturday), 2012 - January 3rd (Thursday), 2013 (6 days, 5 nights)
New Year's Eve Retreat - Sedona, Arizona
Location:  Enchantment Resort, 525 Boynton Canyon Road, Sedona, AZ
During these six love-filled days at world-renowned Enchantment Resort, you will receive illuminating discourses on many topics, immerse yourself in the joy of ecstatic singing, have the rare opportunity for direct personal guidance from this spiritual Master, as well as enjoy nature hikes and gourmet vegan cuisine. Families are welcome, and a children's program is provided.
Cost:  $2,700 (includes retreat tuition, five nights' accommodation, all vegan meals, all taxes and gratuities)
To register and for more information please visit:  www.LouixNYE.org
For more information on any events or to register for the retreat, please contact Samantha Farber at:  (888) 288-3735  or e-mail:  samantha@Louix.org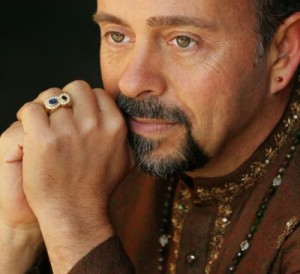 Videoconference Calls with Louix
Join these videoconferences with Louix Dor Dempriey and learn simple, practical tools for spiritual living that will accelerate your path to self-mastery!
Louix Dor Dempriey offers His darshan and Divine guidance through a series of videoconferences that are held on the first and third Thursday of every month. These live conferences with Louix include discourses, as well as the opportunity to submit questions to Louix and receive His guidance on topics of personal and general concern. He also shares many tools for spiritual growth, such as chanting, body and mind purification techniques, and guided meditations. These conferences are recorded and the video is made available to registrants for future viewing from our Video Library, and the audio is available for download in MP3 format. Join Louix on live videoconferences, which are available to everyone worldwide.
Time: 6:00 – 7:00 p.m. Pacific Standard Time (PST), the first and third Thursday of every month
Fee: $20.00 per call; $35.00 for two conferences; or $30.00 for an ongoing monthly subscription
SPECIAL OFFER: For every 2 conferences purchased, you have the option to purchase one archived recording for half price ($10.00).
Click here to sign up for a videoconference call.
 Prema Drala Ashram Study Group
Prema Drala Ashram regularly holds monthly Study Groups. Open to everyone, these Study Groups offer a regular forum to explore Louix's teachings and learn the many practical tools He offers to accelerate one's spiritual development. These gatherings are intended as interactive forums, fostering personal growth and transformation, and making the many facets of conscious living relevant to our everyday lives. Some of the many themes addressed include:
The Power of Gratitude
The Journey to God-Realization
Transmuting Fear and Anger
Creating Abundance
Divine Parenting
Healing Disease
Holistic Living
Meditation
Location: Prema Drala Ashram, 25742 La Serra, Laguna Hills, CA  92653
Dates and Time: The last Wednesday of every month (except in December) at 7:30 p.m.
Cost: By donation
Contact: Sylvia at (949) 292-2699  or sylvia@Louix.org
 Products
We invite you to explore our online store (Prasad) which carries a wide array of transformative CD's, containing meditations and teachings that allow you to receive Louix's darshan at any time of the day! In particular, we have a book entitled The Heart Always Knows, which is a collection of fifty-nine essays detailing the profound transformations and blessings that have befallen ones who have found and chosen Louix as their spiritual teacher. It is one of those books, replete with miracles and countless wonders, that is hard to put down. We also have many photos of Louix, including a Master's Portrait, available for purchase. Please visit the online store:  http://www.prasadthestore.org/
 Become More Involved
The Louix Dor Dempriey Foundation is primarily run by volunteers, and we are always in need of assistance in a variety of areas. We currently have positions for gardening, house cleaning, audio and video archiving, video editing and videography (at events), and general administrative help. Please call or e-mail to schedule a time that suits you.
New Seva Saturdays:  In an effort to encourage volunteers we have an open day every Saturday for anyone to come and serve at Prema Drala Ashram, in any of the areas mentioned above. Seva hours are between 10:00 a.m. - 3:00 p.m.
If you are interested in volunteering or wish to learn more about the various seva projects we have, please contact Sylvia Zsido at (949) 292-2699  or sylvia@Louix.org (U.S. and other regions), or Kharananda Mayi at +61 3 9885-2993  or kharananda@Louix.org (Australian inquiries).
We are so grateful to all those who have donated to the Louix Dor Dempriey Foundation. This Foundation is funded primarily by tithing, donations, and philanthropic offerings to help us fulfill our goal in service to humanity. To make a donation to the Foundation, please click here. Your donations are tax-deductible to the extent allowable by law. Thank you for your loving support of the Louix Dor Dempriey Foundation!
The joy of serving is the reward for serving.
-  Louix Dor Dempriey
If you would like to host Louix or help coordinate an event in your area, please contact Mirianna Schroeder, Events Coordinator.
 Media Contact
To schedule an interview with Louix, publish His teachings, or discuss media opportunities, please contact Samantha Farber, Director of Public Relations.
 Please feel free to pass this e-mail on to anyone you know who would be interested in these special events and updates from our Foundation. You can also visit www.Louix.org for more information.
 With love and gratitude,
Samantha Farber
Director of Public Relations - Louix Dor Dempriey Foundation
(888) 288-3735
samantha@Louix.org
About Louix Dor Dempriey:  Louix Dor Dempriey is a spiritual Master who has come into this world to help others restore their inherent divinity and live as unconditional love. Louix's darshan, as well as His illuminating discourses, meditations, and ceremonies, have invoked profound transformation in thousands of people worldwide. With grace and humor, Louix imparts timeless wisdom in contemporary, practical teachings—that transcend all faiths, paths, religions, and cultures—making self-mastery and true inner peace attainable for all. He resides at Prema Drala Ashram in Laguna Hills, California. For more information, please visit: www.Louix.org.
About Pranam:  Pranam is an ensemble from Prema Drala Ashram who blend music styles from various sacred traditions to create an uplifting musical experience for people from all walks of life. Pranam is sponsored by the Louix Dor Dempriey Foundation. For more information, please visit: www.Louix.org.