Reuniting with Our Soul Family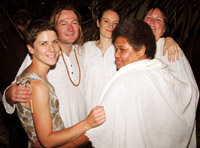 Taken from a Q&A Evening at Sundara Aravinda Ashram in Melbourne, Australia (6 Feb 2009).
When people have their spiritual awakenings, Louix explains, they often start reconnecting and reuniting with their "soul family." Reminding us that God created the human race to inhabit the earth in tribes, Louix goes on to teach the importance and function of living in a community of like-minded souls.
(Running time:  5 min.  04 sec.)