Reality Sandwich (25 Oct 2007)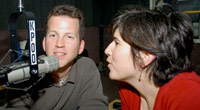 On 25 October 2007, Louix was interviewed on Healthful Living's radio show "Reality Sandwich," a San Francisco community-sponsored radio station, on 89.5 FM, which also aired over the Internet. The show brings depth, insight, and fun to holistic health and healing practices.
 Reality Sandwich wrote, "A delightful and deeply insightful conversation with someone who's a living example of being pure love. We learn that love is a choice and gain understanding of the illusion of duality that inhibits us from constant connection and alignment with the oneness that is life/god/source/energy. We speak both of the challenges and infinite possibilities that are present before us in today's world, and remain inspired by the potential of humankind to transcend fear and embrace our greater selves. Enlightenment, liberation, and consciousness are explored as Louix shares learnings from his journey that can serve each of us---regardless of respective spiritual beliefs---love and openness are inherently human and universal." Hosted by Martin Matthews and Michael White.
(Running time:  54 min. 21 sec.)