Prema Drala's Annual Spring Gardens Ceremony, 2009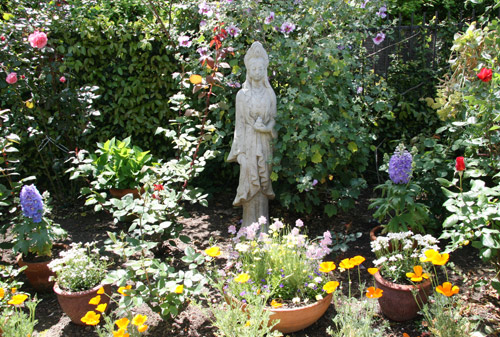 Enjoy this beauteous floral slide show (see below) while you listen to Louix Dor Dempriey's annual prayer ceremony and celebration of Spring. This takes place in the Prema Drala Ashram gardens each Spring, when the gardens are in peak bloom (always falling between Easter and Mother's Day in Southern California). Louix and his team spend weeks designing and planting many new annual and perennial flowers, the completion of which is always made to coincide with the peak bloom of all the existing plants.
During the prayer ceremony, Louix invokes the Nature spirits, many celestial beings, and God's blessing upon all our new endeavors for this year, honoring the season and the energies of Spring, and creating a divine union and synergy with all of heaven and earth to empower and bring forth quantum growth, harmony, beauty, and success in all areas of our lives. Following the prayer ceremony is a bountiful brunch in the gardens, lovingly prepared by the residents of the ashram, and an afternoon of devotional singing and communing with one another. As part of his annual tradition, the Master takes camera in hand and personally photographs all the many flowers and plants which he spends much of his time caring for throughout the year—combining two of his favorite pastimes, gardening and photography.
Relax… and enjoy!
ARVE Error: need id and provider