May 2012 Newsletter

23 May 2012
Namaste,
We invite you to our next event which will be Ecstatic Singing at Prema Drala Ashram, on Saturday the 26th of May. Following are some of the highlights from April, which was a month filled with celebrations.
On April 6th, Louix gave darshan at Prema Drala in honor of Good Friday. He offered a prayer to Jesus for all the sacrifices He made, and the example of Divine wisdom, selflessness, and perfect love He embodied. In His prayer, Louix spoke an illuminating discourse about how very few have discovered the vast richness of a life in service to God through surrender and selflessness, which ends all suffering, all confusion, and all searching. After the meditation, Pranam began playing as Louix starting receiving people for blessings.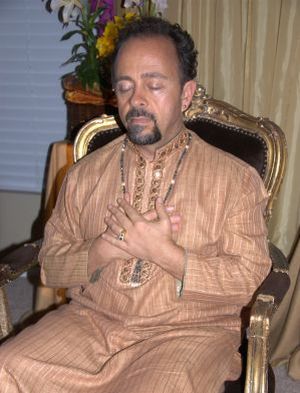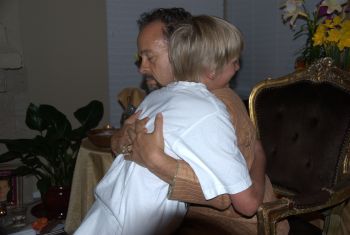 On April 7th, in celebration of Easter, Louix hosted the Spring Garden Party at the Sanctuary. The gardens were singing from the countless hours of planting, pruning, and love they had received over the past few weeks. We had 37 adults and 9 children share the day with us. A very special playlist of love songs meticulously put together by Louix, spanning over four decades of classic love songs were playing in the background, as we all enjoyed dishes brought by the guests and made by the resident disciples. After everyone had finished eating, a few people began to ask Louix some questions, and slowly everyone gathered around under the tents to drink of the Master's wisdom. So many interesting and personal questions arose, such as "Why is my 4-year-old daughter waking me up every night for an hour or two?" "Why do I like to argue so much?" and "How do I know what God wants from me?" Louix filled our hearts and our minds while the kids enjoyed a lively game of hide-and-go-seek.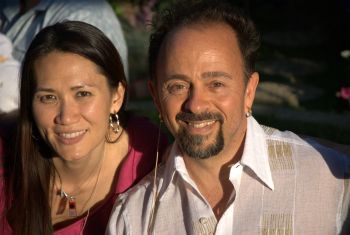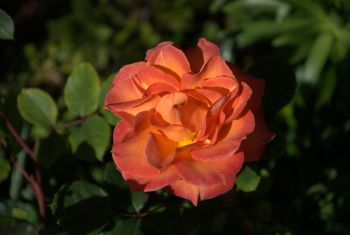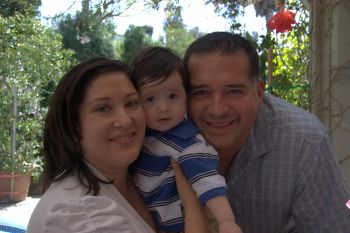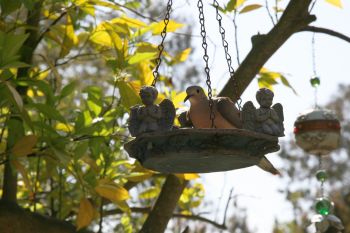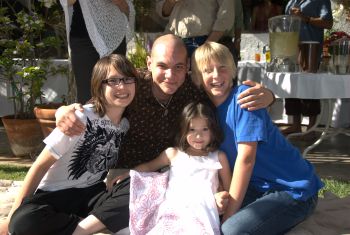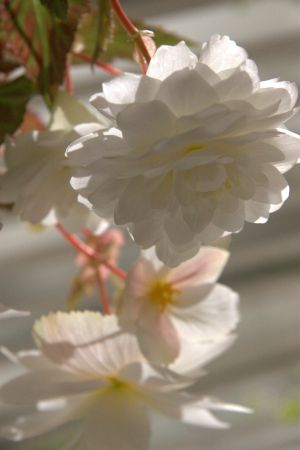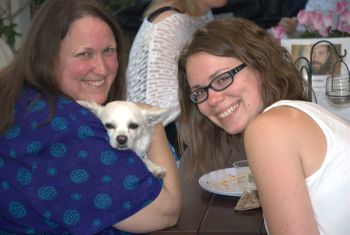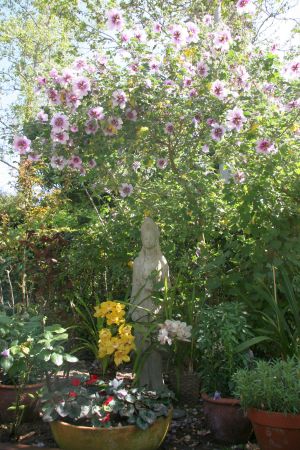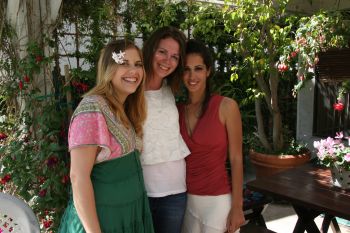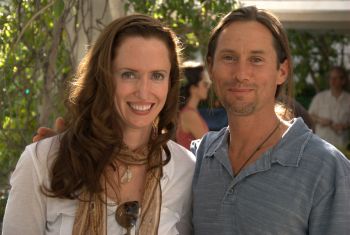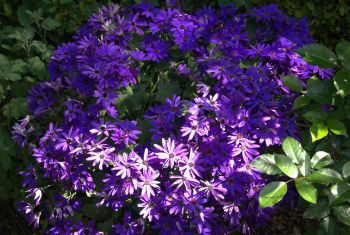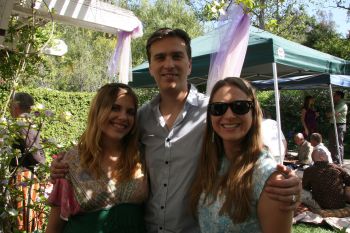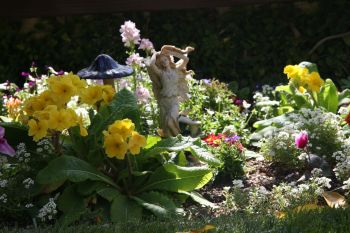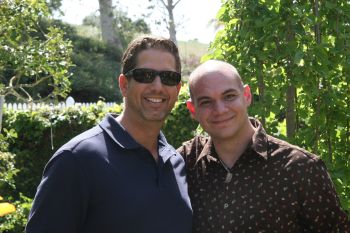 On April 21st, Louix hosted a One-Day Retreat at the Center for Spiritual Living in Mission Viejo. Forty-one people attended, and the day began with Louix welcoming everyone before He started a powerful guided meditation, wherein He took us to Egypt and up to the summit of Mt. Sinai. Many shared afterwards that this meditation was one of the most powerful ever experienced.
After lunch, Louix began counseling those who asked questions. Some of the topics throughout the day included:  employment, death and the grieving process, how to deepen your relationship with God, spiritual partnerships, and why it is such a blessing to have a Guru to help us
After the Q&A, we spent the last hour singing along with Pranam and Louix.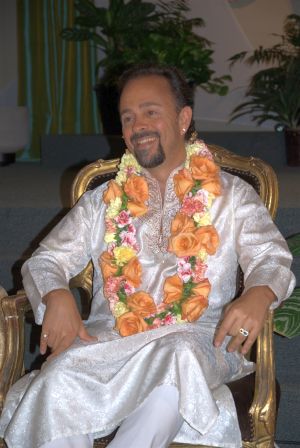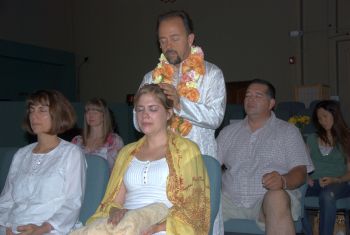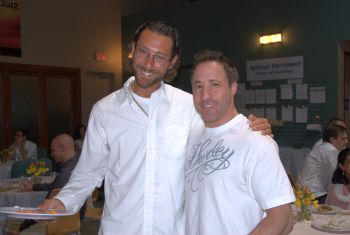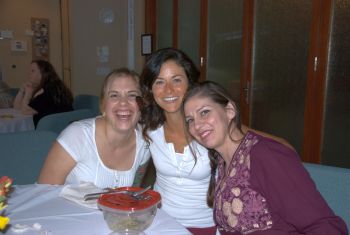 On April 29th, Louix was invited to give darshan at Akasha Yoga in La Jolla, California. The studio is owned by Stephanie Pafford, and her family had come for darshan many times over the past year, as well as having attended the New Year's Eve Retreat in Sedona. She wanted to offer her studio in gratitude to Louix on this date (which was also her birthday). More than seventy people came to receive a blessing from Louix. So many new faces! The studio is on the 2nd floor, and there were windows behind Louix's chair and on the side of the room. Throughout the event, there were many seagulls swooping and dancing outside the second story window behind His chair . We hope to return to Akasha Yoga again soon. Thank you, Stephanie, for welcoming us into your studio.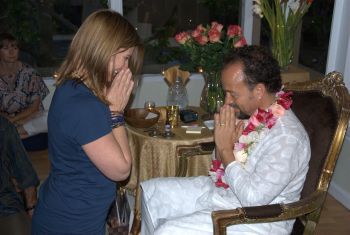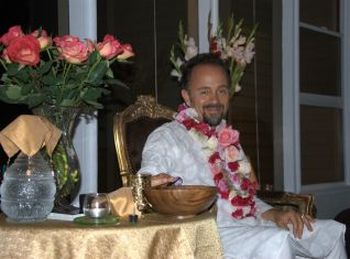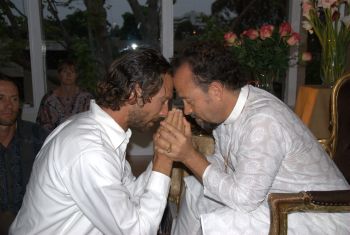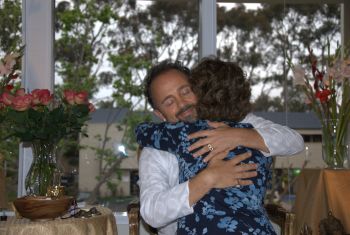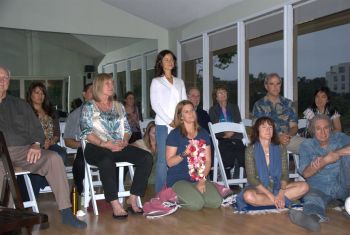 Please read below for details about our upcoming events:
* All events are by donation, except where noted.
May 26th (Saturday), 7:30 p.m. 
Ecstatic Singing with Louix – Laguna Hills, CA
Location:  Prema Drala Ashram, 25742 La Serra, Laguna Hills, CA 
At this event, Louix joins the band to create an uplifting and exhilarating experience of ecstatic singing. Come and bask in the bliss!
May 30th (Wednesday), 7:30 p.m. 
Study Group – Laguna Hills, CA
Location:  Prema Drala Ashram, 25742 La Serra, Laguna Hills, CA
An ongoing forum for people to explore and practice Louix's teachings.
June 9th (Saturday), 7:30 p.m. 
Darshan – Eninitas, CA
Location:  Seaside Center for Spiritual Living, 1613 Lake Drive, Encinitas, CA  
Come and receive a personal blessing from Louix.

June 27th (Wednesday), 7:30 p.m. 
Study Group – Laguna Hills, CA
Location:  Prema Drala Ashram, 25742 La Serra, Laguna Hills, CA
Open to all faiths and all cultures, these Study Groups offer a regular forum to explore Louix's teachings and learn the many practical tools He offers to accelerate one's spiritual development and live in greater joy and inner peace.
For more information on any events, please contact Samantha Farber at:
(888) 288-3735 or e-mail:  samantha@Louix.org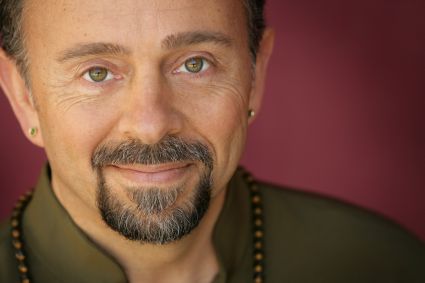 Videoconference Calls with Louix
Join these videoconferences with Louix Dor Dempriey and learn simple, practical tools for spiritual living that will accelerate your path to self-mastery!
Louix Dor Dempriey is now also offering His darshan and Divine guidance through a series of videoconferences that are held on the first and third Thursday of every month. These live conferences with Louix include discourses, as well as the opportunity to submit questions to Louix and receive His guidance on topics of personal and general concern. He also shares many tools for spiritual growth, such as chanting, body and mind purification techniques, and guided meditations. These conferences are recorded and the video is made available to registrants for future viewing from our Video Library and the audio is available for download in MP3 format. Join Louix on live videoconferences, which are available to everyone worldwide.
Time: 6:00 – 7:00 p.m. Pacific Standard Time (PST), the first and third Thursday of every month 
Fee: $20.00 per call; $35.00 for two conferences; or $30.00 for an ongoing monthly subscription
SPECIAL OFFER: For every 2 conferences purchased, you have the option to purchase one archived recording for half price ($10.00).
Click here to sign up for a videoconference call.

Prema Drala Ashram Study Group
Prema Drala Ashram regularly holds monthly Study Groups. Open to everyone, these Study Group's offer a regular forum to explore Louix's teachings and learn the many practical tools He offers to accelerate one's spiritual development. These gatherings are intended as interactive forums, fostering personal growth and transformation, and making the many facets of conscious living relevant to our everyday lives, such as:
The Power of Gratitude

The Journey to God-Realization

Transmuting Fear and Anger

Creating Abundance

Divine Parenting

Healing Disease

Holistic Living

Meditation
Location: Prema Drala Ashram, 25742 La Serra, Laguna Hills, CA  92653
Dates and Time: The last Wednesday of every month (except in December) at 7:30 p.m. 
Cost: By donation
Contact: Sylvia at (949) 292-2699 or sylvia@Louix.org

Products
We invite you to explore our online store (Prasad) which carries a wide array of transformative CD's, containing meditations and teachings that allow you to receive Louix's darshan at any time of the day! In particular, we have a book entitled The Heart Always Knows, which is a collection of fifty-nine essays detailing the profound transformations and blessings that have befallen ones who have found and chosen Louix as their spiritual teacher. It is one of those books, replete with miracles and countless wonders, that is hard to put down. We also have many photos of Louix, including a Master's Portrait, available for purchase. Please visit the online store: http://www.prasadthestore.org

Become More Involved
During this phase of growth and expansion, there are many opportunities to serve the Foundation. To learn more about volunteer opportunities and various service projects, please contact Sylvia Zsido at (949) 292-2699 or sylvia@Louix.org (U.S. and other regions), or Kharananda Mayi at +61 3 9885-2993 or kharananda@Louix.org (Australian inquiries).
We are so grateful to all those who have donated to the Louix Dor Dempriey Foundation. This Foundation is funded primarily by tithing, donations, and philanthropic offerings to help us fulfill our goal in service to humanity. To make a donation to the Foundation, please click here. Thank you for your loving support of the Louix Dor Dempriey Foundation!
The joy of serving is the reward for serving.
-  Louix Dor Dempriey

Hosting Louix
If you would like to host Louix or help coordinate an event in your area, please contact Mirianna Schroeder, Events Coordinator.

Media Contact
To schedule an interview with Louix, publish His teachings, or discuss media opportunities, please contact Samantha Farber, Director of Public Relations.

Please feel free to pass this e-mail on to anyone you know who would be interested in these special events and updates from our Foundation. You can also visit www.Louix.org for more information.
With love and gratitude,
Samantha Farber
(888) 288-3735 
samantha@Louix.org

About Louix Dor Dempriey: Louix Dor Dempriey is a spiritual Master who has come into this world to help others restore their inherent divinity and live as unconditional love. Louix's darshan, as well as His illuminating discourses, meditations, and ceremonies, have invoked profound transformation in thousands of people worldwide. With grace and humor, Louix imparts timeless wisdom in contemporary, practical teachings—that transcend all faiths, paths, religions, and cultures—making self-mastery and true inner peace attainable for all. He resides at Prema Drala Ashram in Laguna Hills, California. For more information, please visit:www.Louix.org.
About Pranam: Pranam is an ensemble from Prema Drala Ashram who blend music styles from various sacred traditions to create an uplifting musical experience for people from all walks of life. Pranam is sponsored by the Louix Dor Dempriey Foundation. For more information, please visit: www.Louix.org.