March 2010 Newsletter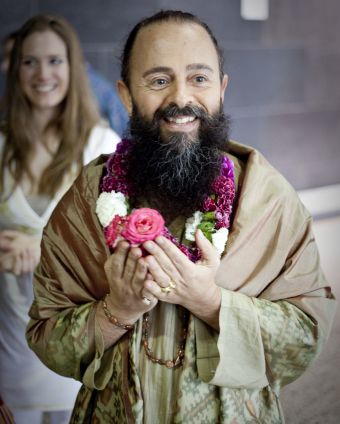 Pranananda Enters 40-Day Fast
On February 9th, Louix entered what was originally planned to be a 13-day fast, in honor of the upcoming Divine Romance Day and ceremony He would lead on February 13th, as well as in preparation for our Shivaratri ceremonies here at Prema Drala, in addition to His other personal and private reasons, known only to the Master. As always, whenever a Master enters a period of fasting, there are great blessings to be had by all disciples and devotees, as well as by the world at large. On this particular occasion, many of the disciples at Prema Drala joined Him for several days during the first week of His fast.
Unbeknown to us all was the Master's imminent revelation (before completing the 13 days) that He would continue this fast for a full 40 days and 40 nights, twice the duration of the longest Louix has ever undertaken. A fast of this length is a most rare and auspicious event. It is for this reason that we wish to inform others, that they may unite with Him in consciousness at this time, to more deeply and profoundly avail themselves of the blessings that are available by way of this sacred event. Louix's fast shall complete at 1:00 p.m. on March 21st, 2010, also the day of the Spring Equinox. Many have already spoken that they plan to again join Him in fasting for the last several days or for the last week of His fast, to again accelerate their own cleansings, and for the powerful, synergistic transformation they will derive by so doing. If you choose to be one of this cadre of souls, as always, "Listen to your body. Obey its requests. And, if you are not accustomed to fasting, please—by all means—do so with proper mentoring and guidance."
May we all celebrate in the Oneness of His love. Thank You, Guruji, for doing this for us all. We are so blessed. We are so grateful.

Upcoming Events
Los Angeles Darshan
Date:         Saturday, 17 April 2010, 5:00 p.m.
Location:   Rose Temple, 305 Rose Ave., Venice, CA 90291
This is a beautiful opportunity to receive a personal blessing from Louix and experience the transformational power of His unconditional love.
For more information, please contact Samantha Farber at (888) 288-3735 or at samantha@Louix.org.
 
Las Vegas Events
Darshan
Wednesday, 19 May 2010, 6:00 p.m.
This is a beautiful opportunity to receive a personal blessing from Louix and experience the transformational power of His unconditional love.
One-Day Retreat
$175 (includes a vegan lunch)
Saturday, 22 May 2010, 10:00 a.m. – 6:00 p.m.
On this special day, join Louix for a magical journey of self discovery. Come and experience profound transformation through meditation, ceremony, discourses, Q&A, and darshan with Louix.
Both Las Vegas events will be held at a venue to be determined. Please contact Samantha Farber at (888) 288-3735; or e-mail samantha@Louix.org. For further information, please go to http://www.meetup.com/Prema-Drala-Ashram-Meetup-Group/.
 
From Darshan to Devotional Singing, our events are gathering momentum and attracting new people. This is an exciting time for all of us, as we are seeing more and more souls coming to drink from the well of Louix's love and wisdom. To keep abreast of our ongoing events, and/or to see the detailed schedule of all Southern California events, please refer to the Upcoming Events section on the Foundation's website (www.Louix.org).

Recent Events
Las Vegas Events - November 2009 and February 2010
On November 14th, Louix Dor Dempriey gave darshan to 85 people at a private home in Las Vegas. Louix entered the transcendental state of consciousness known as Samadhi, and, for the next three hours He gazed deeply into each person's eyes as He anointed them, at times delivering guidance and Revelation to some. Two days later, on November 16th, many people who had attended the Darshan, along with a new group of curious aspirants, arrived at the Sun City MacDonald Ranch (nestled on the city's southeastern outskirts) to experience yet another intimate "Evening with Louix." He answered questions from the audience regarding spiritual concepts, lovingly guiding many through challenging life circumstances, and offering Divine pearls of wisdom.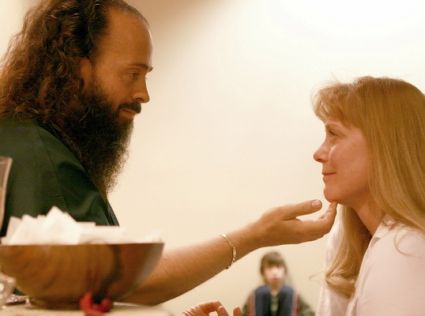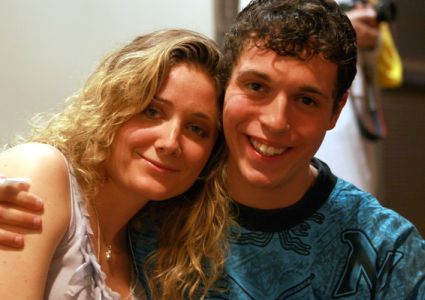 In mid-February, Louix returned to be with His beloveds in Las Vegas for two more bliss-filled events, held once again at the beautiful Sun City MacDonald Ranch. On February 20th, He gave darshan to over 70 people, and two days later He led a silent meditation. Then, while still in a very God-intoxicated state, He traveled the room and anointed each person with vibhuti. After He returned to His chair, He answered various questions from the audience, delivering many priceless discourses to those in attendance. We offer our heartfelt gratitude to the spiritual community of Las Vegas for their wonderful welcome, service, and commitment to helping us share Louix's love and teachings with the world.
(If you were not able to attend any of these events, Louix will be returning to Las Vegas in mid-May for a Darshan event, as well as a One-Day Retreat! See above for more information.)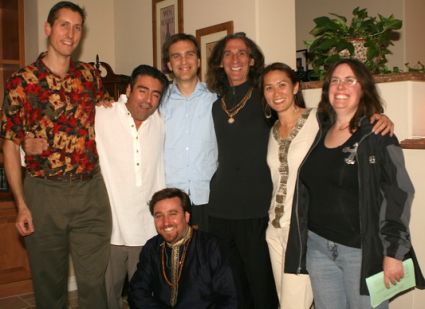 Louix's Visit to Australia - December 2009/January 2010

On December 8th, the disciples at Prema Drala Ashram bid farewell to Guruji as He departed for His month-long sojourn in Australia. His disciples and devotees from Sundara Aravinda Ashram welcomed the arrival of their beloved Guru in Melbourne, Australia. His daughter Ariel Ganesha also came to Melbourne, arriving one week later. His itinerary spanned four weeks, and included the following events:  Devotional Singing, Community Dinners, Movie Nights, a Pranayama, Disciple Training, Guided Meditations, a Q&A Session, Private Audiences, Media Interviews, and a four-day New Year's Eve retreat in the beautiful Dandenong Ranges. Guruji also shared meals with, and gave personal discourses and guidance to His disciples and devotees. Louix would often enter samadhi, and many people would be effortlessly transformed by the all-consuming love felt in His presence---a feast for the heart and soul!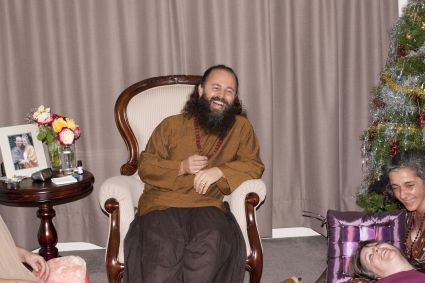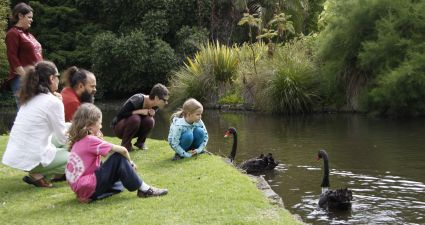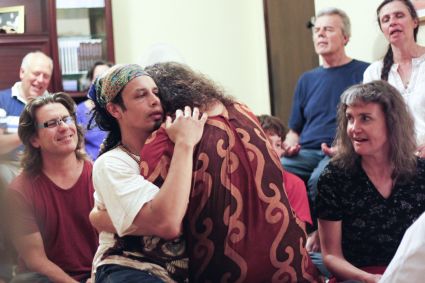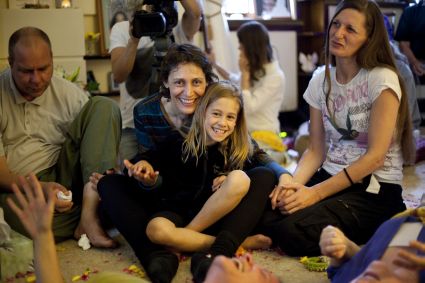 On December 17th, Louix's birthday, He held a public darshan at the BMW Edge at Federation Square, an ultra-contemporary glass amphitheatre overlooking the Yarra River in downtown Melbourne. The auspiciousness of this day was evidenced by the blessing of a (desperately needed) heavy rainfall. Over 100 people flowed in to receive Louix's blessing, while Kirtan group Sushumna played the most enchanting devotional music throughout the event. Something very unique to this event---held in the central business district of a bustling metropolis---was that many in attendance had never been in the presence of a spiritual Master. This added a very touching and  inspirational element to the evening.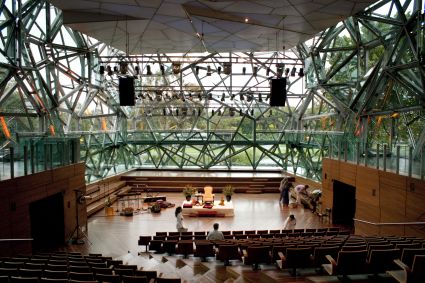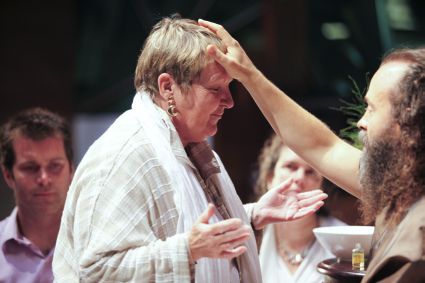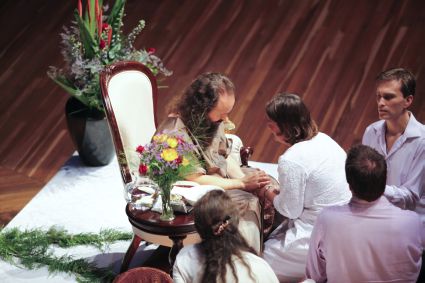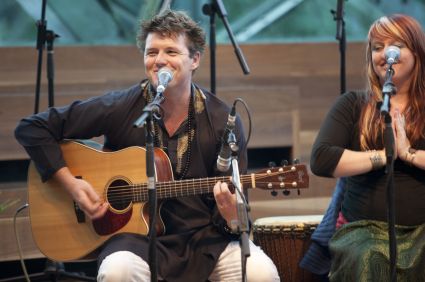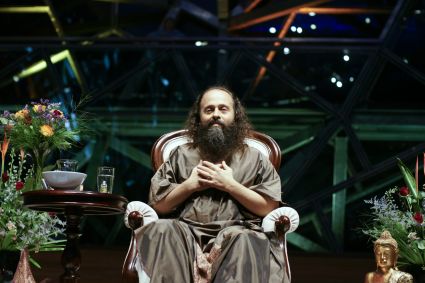 On December 29th, 74 souls arrived at the Country Place at Kalorama, to take part part in Louix's bi-annual New Year's Eve residential retreat. Over the next four days, participants basked in Louix's constant emanation of unconditional love. They partook in meditations, yoga sessions, and devotional singing, enjoyed sumptuous vegan feasts, and received guidance from Louix on many subjects. One special evening included a performance of meditative Tibetan bowl playing from special guest Garth Stone. Far more than ever before were great numbers of people having profound kundalini awakenings and experiencing shakti coursing through their bodies, merely by Louix's glance or touch.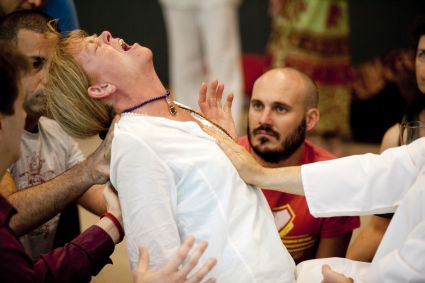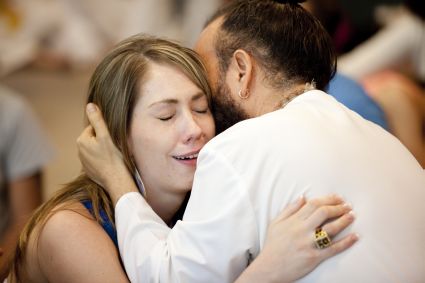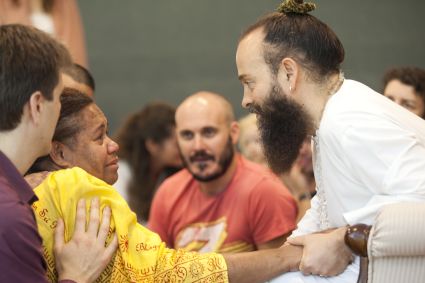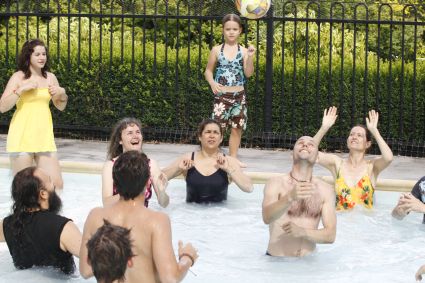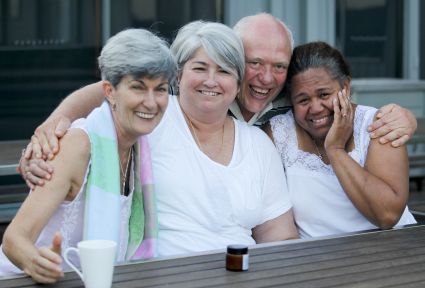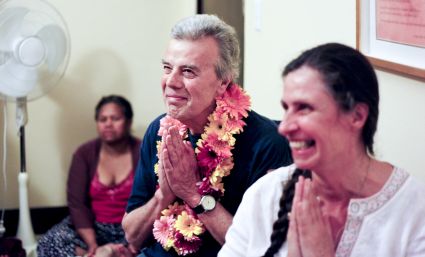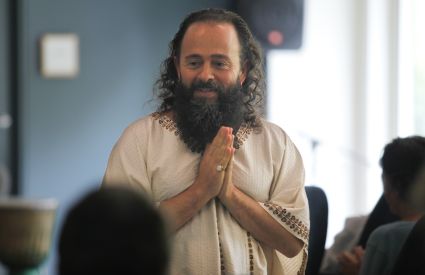 Over 40 disciples and devotees gathered on January 4th for Louix's farewell dinner. This was followed by devotional singing, during which they expressed their love and gratitude to Guruji for the amazing past four weeks. Guruji hugged and thanked everyone and invited them to the 2010 New Year's Retreat which will be held in the United States. He beckoned all to go and spread the love and blessings they had received.
Louix proclaims 2010 as The Year of Adoration
On New Year's Eve, Louix celebrated His annual tradition of gathering with His beloveds to ring in the New Year and deliver His benediction for the upcoming year. He proclaimed 2010 as The Year of Adoration—the year to truly enter The Divine Romance (our love affair with God) like never before. As part of His guidance as to how each of us can deepen our relationship with The Beloved, He highly recommends that we recite The Everlasting Covenant as often as possible. He also recommends reading the book Miracle of Love (by Ram Dass) to vicariously experience the sublime devotion and adoration of which He speaks, and to see the all-transforming power of that love. Click here to see the full-length video of His dispensation for 2010, The Year of Adoration.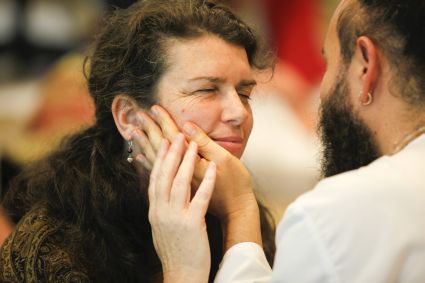 Louix Returns to Prema Drala Ashram - January 2010
On January 9th, in honor of Guruji's return from Australia, the ashram held an intimate evening of Devotional Singing (with Louix as lead singer—a rare occurrence thus far at Pranam's public events). Pranam led the music, playing favorites as well as some new songs. The evening concluded with some beautiful toning and "Oms" led by Pranananda, which left everyone in the most exalted vibration of love.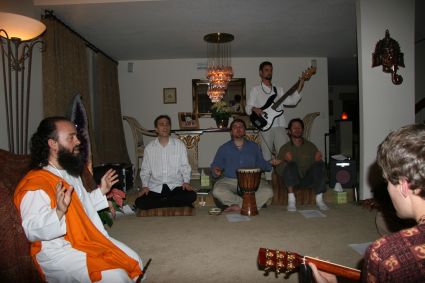 On January 23rd, a public darshan was held at Prema Drala and approximately 65 people attended. Pranam serenaded the room with devotional songs as Guruji blessed and anointed each person who came before Him. Many new faces joined us for this bliss-filled event.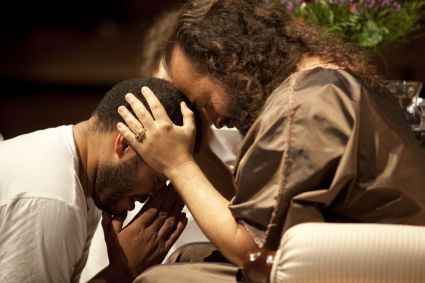 On February 12th, we celebrated the holy day of Shivaratri. The disciples held a puja to our Guru (who was physically present) and sang devotional songs to Lord Shiva.
On February 13th, in honor of The Divine Romance—the day wherein we re-consecrate and recommit our lives to The Beloved of our souls, our Creator—Louix led a ceremony at  Prema Drala Ashram that was open to the public. It began with a meditation which held the theme of God adoring us at the moment of our creation. He ended the meditation by having everyone recite The Everlasting Covenant, and we completed the ceremony by singing "Hosannah."

New Audio CD Product!

The Divine Romance
The Moment of Creation
Enter the courtship with The Beloved of your soul through this meditation and sacred ceremony, in which you will experience God adoring humanity at the very moment of our creation. Feel the full restoral of yourself as Love, as you reconsecrate and recommit your life to the Divine. The ceremony includes a live version of the devotional song "Hosannah" by Pranam. This product is now available and can be purchased through our online store at www.prasadthestore.org.

Publications
We invite you to read three publications featuring Louix this month:
Vision Magazine:  Feature interview with Louix in the March 2010 issue.  www.visionmagazine.com.
InsideLook Magazine:  An article by Louix in the March/April 2010 issue of this online magazine.  www.insidelooknetwork.com/green2010.pdf
The MetaMystic Magazine:  A Las Vegas magazine that is concerned with all things holistic, spiritual, and earth-friendly. The MetaMystic Magazine has featured articles from Louix over the past few months, and we invite you to read through this excellent resource.  www.themetamystic.com
 

Teleconference Calls with Louix
Join these teleconference calls with Louix Dor Dempriey, and learn simple, practical tools for spiritual living that will accelerate your path to self-mastery!
Louix  is now also offering His darshan and Divine guidance through a series of teleconference calls that are held on the first and third Thursday of every month. These live calls with Louix include discourses, as well as the opportunity to submit questions to Louix and receive His guidance on topics of personal and general concern. During these calls, He also shares many tools for spiritual growth, such as chanting, body and mind purification techniques, and guided meditations. All calls are recorded and made available for future listening to all those who register. Participating in these conference calls is a creative way to avail yourself of Louix's teachings. To register for our next call, or for more information, please visit:  www.LouixLIVE.org.

Donating to the Louix Dor Dempriey Foundation
We are so grateful to all those who have donated to the Louix Dor Dempriey Foundation. This Foundation is funded primarily by tithing, donations, and philanthropic offerings to help us fulfill our goal in service to humanity. To make a love offering to the Foundation, please click here. Thank you for your loving support of the Louix Dor Dempriey Foundation!

Become More Involved
During this phase of growth and expansion, there are many opportunities to serve the Foundation. To learn more about volunteer opportunities and various service projects, please contact Zimmaron Zsido at (888) 288-3735 or zimmaron@Louix.org (U.S. and other regions), or Kharananda Mayi at +61 3 9885-2993 or kharananda@Louix.org (Australian inquiries).
The joy of serving is the reward for serving.
                                                                           -  Louix Dor Dempriey

Hosting Louix
If you would like to host Louix or help coordinate an event in your area, please contact Zimmaron Zsido, Events Coordinator.

Media Contact
To schedule an interview with Louix, publish His teachings, or discuss media opportunities, please contact Samantha Farber, Director of Public Relations.