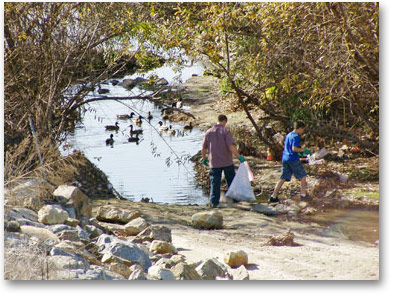 Global Clean-Up was initiated in December 2003 as a special birthday present to Louix Dor Dempriey from his devotees worldwide. The project demonstrates our love and gratitude to Louix, and to Mother Earth, and provides a vehicle to deepen our attunement to their Divine beauty and grace.
The primary task of Global Clean-Up is a simple one:  pick up trash and dispose of it responsibly. By cleansing the earth of garbage, we also gift ourselves with the opportunity to expand and cleanse our own consciousnesses, to redefine areas of our lives where we are less than graceful, and the parts of our consciousness that are less than pure love.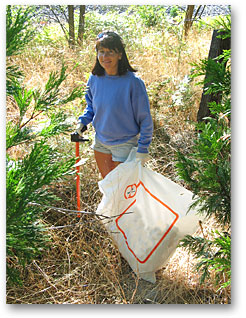 The suggested bag for use during trash collection is the standard plastic or brown paper grocery bag. (For reference:  a 13-gallon bag holds three full grocery bags.) To include your trash collection in the global bag count, please e-mail your collection totals to graceinaction@Louix.org. Please read the suggestions below before participating.
Make your trash pick-up a sacred act:
While collecting trash, sing devotional songs or chant your favorite mantra. Or you can simply be in silence.
Set the intention to cleanse your consciousness (and release any non-loving habits) while you cleanse the earth.
Safety/Hygiene:
Always use gloves.
Do not mix syringes with other rubbish, and obtain instructions from local authorities on how to collect and dispose of them safely.
Be very careful with sharp objects like broken glass; do not pick up anything that you are not sure that you can carry safely.
If working in a group, have one person carry a bucket for dangerous objects.
Keep toxic substances in a separate bag (paint cans, solvents, chemicals), many of which can be taken to a toxic waste facility.
Wash your hands thoroughly when finished.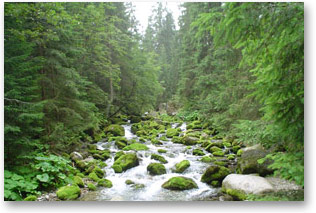 Re-use/Recycle:
Use plastic shopping bags or larger garbage bags to collect trash. Three regular-sized shopping bags are equivalent to one 13-gallon trash bag.
Wherever possible, separate the rubbish from clean, recyclable objects and dispose of them in appropriate garbage bins. Do the same for chemicals or toxic waste, if possible (see above).
Plan Well:  
If you organize a group collection, make sure you contact the local council for any  relevant guidelines.
Keep plastic bags in the car or in your handbag. Once you start collecting trash, you begin to notice all kinds of rubbish wherever you go.
There is no shortage of trash:  railway stations, train compartments, supermarket parking lots, beaches, parklands, and sports venues are usually in need of a clean-up! You will most likely find a lot of trash in your own neighborhoods.
Remember to e-mail graceinaction@Louix.org with your bag count.
Invite family, friends, or work colleagues to join you—why not have a picnic together?
Have fun! Enjoy God's creation as you walk about.
And lastly, become one of the many souls who have adopted (Louix's) Law of Grace as their way of life:  Leave every space more beautiful than you found it.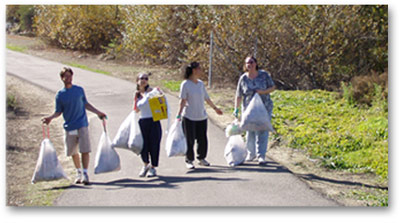 Contacts
U.S.A.
Sambodhi: sambodhi@Louix.org (Los Angeles)
Australia
Howard Lindsay: howard@Louix.org (Melbourne)
Other regions and general inquiries, please e-mail:
We would love to read your stories about any transformational experiences
you have had by participating in this project.