2019-2020 New Year's Eve Retreat – Early Discount
Click Here to REGISTER using the payment plan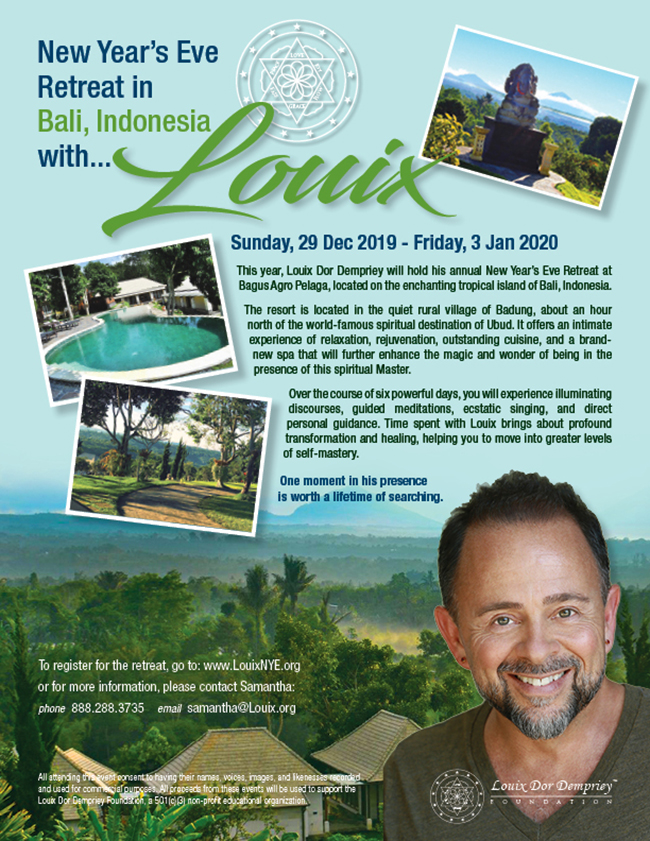 SPECIAL DISCOUNT OFFER
Join us for Louix Dor Dempriey's New Year's Eve Retreat 2019-2020! As an incentive to sign up early, we are offering the following special gift to everyone:
An early sign-up discount! If you pay your initial deposit by September 15th AND pay in full by November 15th, we are offering a 10% discount off the total tuition amount.
If you register and pay your initial deposit by September 15th, we will e-mail you a promo code to use when making your final payment, which must be received by November 15th to apply the discount.
PLEASE NOTE:
This offer is being made available to ALL registrants in all categories.
Due to the size of the meeting room at this gorgeous venue, we have to cap attendance at this retreat at a maximum of 50 people. Therefore, we can only accept completed registrations with the accompanying deposit on a first come-first serve basis to a maximum of 50 people.
We hope you will take advantage of this special discount, and we look forward to seeing all of you at Bagus Agro Pelaga in Bali, Indonesia this December!
Click Here to REGISTER using the payment plan
The cost of the Retreat and accompanying payment schedule is as follows:
All prices are in U.S. Dollars
Total Cost
Non-
Refundable Deposit
(upon registration)
2nd Payment
(15 Oct 2019)
Final Payment
(15 Nov 2019)
Adult (single occupancy)
$3,500
$1,000
$1,250
$1,250
Adult (double occupancy)*
$2,800
$800
$1000
$1000
Child 12 – 17 Years
(double occupancy)
$1,900
$500
$700
$700
Child 6 – 11 Years
(double occupancy)
$1,100
$300
$400
$400
Child 6 – 11 Years
(sharing w/2 adults)
$800
$200
$300
$300
Child under 6 Years
Free
Free
Free
Free
*Room sharing requests may be made in the welcome packet. We will endeavor to honor, but cannot guarantee, all such requests.

Click Here to REGISTER using the payment plan
Click Here to REGISTER by mail
Click Here to make your 2nd payment
Click Here to REGISTER and pay in full
(or to make your 3rd and final payment)
For more information, contact:
Samantha Farber (USA) at +1 (888) 288-3735 or samantha@Louix.org
Kharananda Mayi (AUS) at +61 425-797-383 or kharananda@Louix.org