Louix Gives Darshan in Las Vegas – July 2009

A growing community of spiritual seekers in Las Vegas invited Louix to their city for the first time during the second week of July. Kitty Courtney and Sean Brown, who lead several spiritual groups in Las Vegas, graciously hosted Louix and a team from Prema Drala for a series of events at their home in Henderson.
For weeks prior to the Evening of Darshan on July 18th, momentum was building through various events and media coverage, including:  two interviews on Reverend Thabithi's radio show The Empowerment Hour on AllTalk Radio www.alltalkradio.net/alt/, the first with Markus Kasunich (10-year disciple and personal assistant to Louix), and the second with Louix; and an article in the inaugural edition of  The Las Vegas Metamystic (www.themetamystic.com), which featured information about Louix, His teachings, and the Louix Dor Dempriey Foundation and its various programs (click here to read the article).
Markus also led several events during the week prior to Darshan, including individual healing sessions, Pranayama (a sacred breathing technique), and Satsang. The following are some comments about these events:
"This [Satsang on July 15th] was a really excellent discussion about the Master (Louix Dor Dempriey), and Markus is always a joy to listen to. The meditation was really wonderful, and the more people I meet who come to this group, the more I feel at home… I am so looking forward to meeting Louix… it's going to be life changing!!!"
– L. Burlington
 "…lots of sharing from Markus. We watched some video material and got a good insight into what Darshan will be like on Saturday!"
– S. Fire
All of these events culminated with the Evening of Darshan. Eighty-five people came this special evening to receive Louix's blessing, which, for many, invoked profound transformation and exalted states of bliss.
"As soon as people started to arrive … I saw these radiant, expectant faces and my heart melted, time and time again.  Many were there … without a clue as to what they were getting into, they came with open hearts … I knew from the get-go it would be a gorgeous evening … As He led us in a short but powerful meditation, the whole room started buzzing. Then, one by one, each participant was invited to sit at Pranananda's feet and receive a gift most will never experience—a one-on-one moment with a truly God-realized being."
 – K. Courtney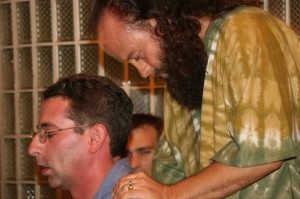 As each person knelt before Louix, He removed physical ailments, provided profound guidance about their lives, and infused them with unfathomable amounts of Divine love and light.  People from all walks of life and from myriad paths and beliefs, some of whom had never before been in the presence of a Master, were inexplicably drawn to be a part of this experience—of receiving Louix's unique expression of unconditional love.
"He touched some of us in areas like our third eye and heart chakra. Others received verbal messages—things like spiritual names and past life connections. He delivered the absolutely perfect blessing for each person. And the reactions to these transmissions were just as varied. Some cried openly. Others shook from shaktipat. Several folks needed help walking back to their chairs; they were so overtaken by the power of the experience."
– K. Courtney
A man who was dancing ecstatically to the kirtan music that resounded in the background during the evening said, "This is a celebration! I am overjoyed to witness Louix taking away the people's pain."  Another woman, who could barely walk because of the immense pain in her body, received her blessing from Louix and walked away exclaiming, "This is incredible! He took away the pain in my knees! He took away my pain…"
"I had the best view in the house. The entire time, I stood back surveying the scene … I watched it all with awe and reverence …  I felt so utterly magical, so full of the energy of love. As the hours wore on, many of us couldn't stop grinning and hugging each other. There was absolutely no denying the power of this night, of Pranananda, and of our own ability to be love."
– K. Courtney
After everyone had received Darshan, those who remained in the room sat completely intoxicated, swooning in the love and singing songs of devotion and gratitude for the magic that has just transpired…
"What can I say? This was the most amazing experience I have ever had! I knew I was connected to Louix before I met him. This night confirmed what a profound connection I have with this amazing being. I know my life experiences will be forever changed because of this event."
– B. Smith

"It was absolutely an amazing experience! I have run across people who claim to be 'gurus,' etc. and I am always discerning. However, Louix (Pranananda) is the real deal." 
– M. Reed
All of us here at Prema Drala are so grateful for the beautiful connections made with the people of Las Vegas, and we look forward to the next visit!